Visit of a delegation from Sunon Asogli to the General Secretariat of WAPP
Visit of a delegation from Sunon Asogli to the General Secretariat of WAPP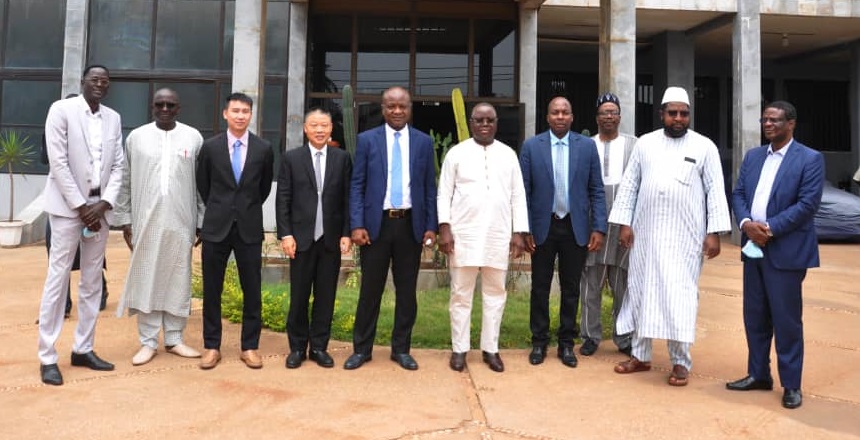 On Monday, June 14, 2021, the WAPP Secretariat received on a working visit a delegation of SUNON ASOGLI Power ltd headed by its Chairman and Managing Director, Chief Togbe Afede XIV.
The visit started with a working meeting between the two parties held at the WAPP secretariat.
Speaking first, the WAPP Secretary General, Mr. Siengui A. KI, welcomed the delegation of SUNON ASOGLI, congratulated its CEO for the timely fulfillment of their financial commitments to WAPP and their participation in meetings organized by the General Secretariat. The SG hoped that SUNON ASOGLI would benefit from the meeting for the development of its activities.
On a lighter note, Mr. KI pointed out that this was the first time the General Secretariat received a crowned head in the person of Chief Togbe Afede XIV.
In his speech, Chief Togbe Afede XIV thanked the General Secretariat for the warm welcome he and his team received and made a brief presentation on the creation of Sunon Asogli Power Ltd. At the end of his speech, he reminded the audience that being a development actor in Africa, he hoped that with the help of WAPP, Sunon Asogli would be able to bring concrete solutions to the problems of the energy sector in the sub-region.
After the working session, the delegation paid a site visit to the construction site of the ICC (Information and Coordination Center) project located in Calavi (Benin). Funded by the European Union, the ICC project is an integral part of the ECOWAS Regional Electricity Market implementation process and is scheduled for completion early next year.
Sunon Asogli Power Ltd, which has been a member utility of WAPP for several years, has a modern, high efficiency, environmentally friendly, natural gas fired combined cycle power plant located on 50 acres of land in Tema, Accra.