The staff of the WAPP Secretariat wishes its Secretary General, Mr. Siengui A. KI, a Happy New Year for 2023
The staff of the WAPP Secretariat wishes its Secretary General, Mr. Siengui A. KI, a Happy New Year for 2023
Saturday, February 18, 2023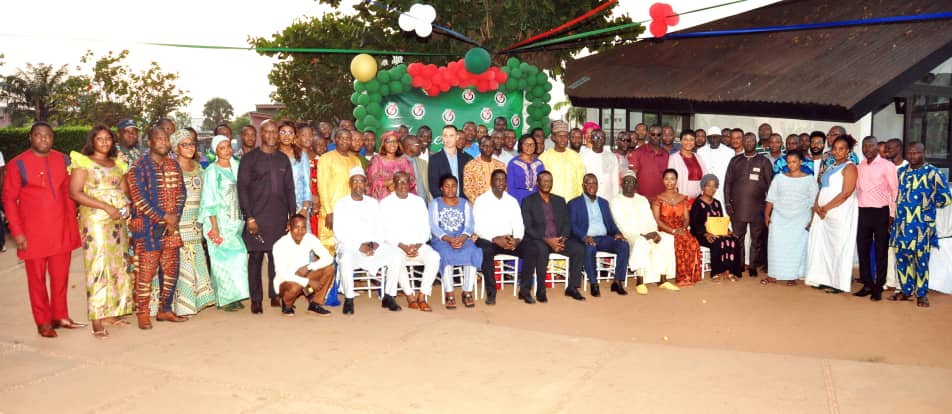 The WAPP Secretariat held this Friday, January 27, 2023 its traditional greeting from the staff to the Secretary General for the year 2023.
Organized in the premises of the institution in Cotonou, Benin, this solemn celebration was opened by the usual Muslim and Christian prayers, followed by the welcome speech of the Director of Administration and Finance, Mr. BABA JARJUSEY, , who in his welcoming remarks recalled all the good that the institution has brought firstly to each employee of the WAPP Secretariat but also to the sub-region and urged the whole assembly present to continue the efforts made for the achievement of the objectives of the institution.
Mr. Casimir CHEDE, the staff representative delivered his speech of best wishes to the Secretary General on behalf of the WAPP Secretariat staff without forgetting the various requests aimed at improving the working conditions of the employees of the WAPP Secretariat, namely:
The establishment of a medium and long term training program;
The revision of the contracts staff on fixed-term contracts;
internal promotion;
And the subscription to a health insurance for the staff.
The speeches ended with the word of the Secretary General of WAPP, Mr. Siengui A. KI, who took advantage of this platform to express his gratitude to the staff for the work done so far while emphasizing the team cohesion within the institution and once again expressing his willingness to move as soon as possible on the Calavi site.
The ceremony ended with a buffet offered by the Secretary General to the WAPP Secretariat staff.