Launch of the North Core 330 KV Nigeria-Niger-Benin/Togo-Burkina Faso Power Interconnection Project
Launch of the North Core 330 KV Nigeria-Niger-Benin/Togo-Burkina Faso Power Interconnection Project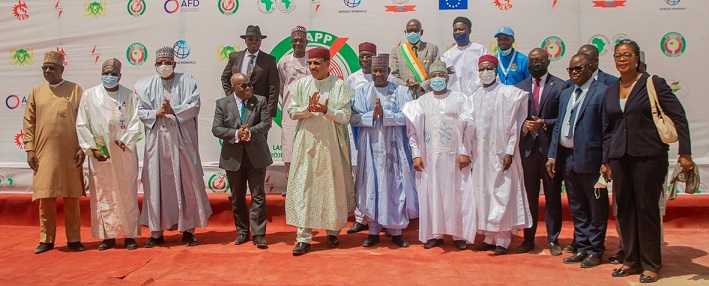 The official groundbreaking ceremony of the WAPP North Core Project took place in Niamey on February 22, 2022 at the Gorou Banda substation with the exceptional participation of the President of Republic of Niger, H.E. Mohamed Bazoum, President of Ghana and Chairperson of the ECOWAS Heads of State, H.E. Nana Akufo-Addo as the guest of honor of the ceremony.
Financed to the tune of US$692 million by the World Bank (WB), the French Development Agency (FDA), the African Development Bank (AfDB), the European Union (EU), and the Federal Government of Nigeria, the North core Project today represents an important step in the construction of the infrastructures of the regional electricity market. which is moving towards its phase 2 - the competitive phase of the ECOWAS Regional Electricity Market.
Indeed, this integrating Project, which is part of the ECOWAS Master Plan for the Development of the Regional Power Generation and Transmission Infrastructure consists mainly of a 330kV and 225kV high voltage line of about 913 km between Birnin Kebbi in Nigeria and Ouagadougou in Burkina Faso passing through Zabori and Niamey in Niger with a branch line linking Malanville in Benin from Zabori. The Project also includes the construction of five substations and a rural electrification component.
As a prelude to this ceremony, the WAPP Secretariat organized the second meeting of the Joint Ministerial Steering Committee (JMSC) of Ministers in charge of Energy, which was expanded to include Ministers in charge of Defense and Security of the countries involved in the Project. The meeting was also attended by the WAPP Secretary General, Mr. Siengui A. Ki, the ECOWAS Commissioner for Energy and Mines, Mr. Sediko Douka, the Managing Directors of the companies involved in the Project, as well as experts from the countries. The meeting was chaired by the Minister in charge of Energy of Niger.
It should be recalled that the primary objective of this meeting was to present the progress of the Project and to obtain from the Ministers, especially those in charge of defense and security, the commitment to ensure security in the different work areas of the project given the security challenges in the region.
Completion and commissioning of the WAPP North Core Project is scheduled for 2024.