Memorandum on the WAPP TFP Meeting
Benin
Memorandum on the WAPP TFP Meeting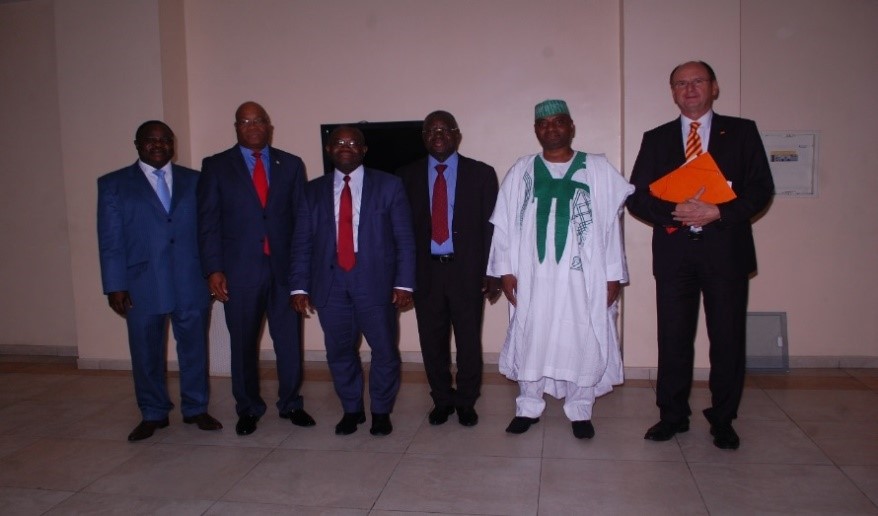 The 27th Consultation Meeting of the West African Power Pool's Technical and Financial Partners (TFP) organized by the WAPP General Secretariat was held on May 13th 2016 at Azalai Hôtel in Cotonou, Benin Republic. See attached the list of the institutions represented at the meeting.
The opening ceremony was chaired by the Minister of Energy, Water and Mines of Benin Republic, Mr. Jean-Claude HOUSSOU. Several opening addresses were delivered namely : a welcome address of the WAPP Secretary General, Mr. Apollinaire Siengui KI; a statement from Dr. Morlaye BANGOURA, the Energy and Mines Commissioner representing the ECOWAS Commission Chairman; a statement from Engr. (Dr) Abubakar T. ATIKU, the WAPP Executive Committee Chairman; a statement from His Excellency Mr. Walther Von Den DRIESCH, Ambassador of the Federal Republic of Germany on behalf of the TFP and at last, the opening speech of the Energy Minister.
In his opening speech, the Minister stressed the importance of electricity for the economic and social development of ECOWAS Member countries. He commended the WAPP General Secretariat for organizing the meeting and thanked the Technical and Financial Partners for their constant support to the development of the electricity sector in West Africa. Before wishing full success to the deliberations of the 27th meeting, he seized the opportunity to formally appeal to the TFP, to stimulate more dynamism in the transfer of technologies and know-how for a harmonious, self-reliant and sustainable development of the energy sector in our region.
After the Minister withdrew, the deliberations continued under the supervision of the WAPP Executive Board Chairman, Engr. (Dr) Abubakar T. ATIKU.
The WAPP General Secretariat presented the state of progress of the priority projects (generation plants and lines), the progress on the implementation of the sub-regional electricity market and the capacity building requirement. The related financing needs were made available.
Following extremely enriching discussions, the donors reaffirmed their financial pledges for WAPP projects.
Annex: List of the institutions at the 27th Meeting of the WAPP TFP
Technical and Financial Partners
World Bank (WB) ;
Agence Française de Développement (AFD) ;
European Investment Bank (EIB) ;
African Development Bank (BAD) ;
Islamic Development Bank (IDB) ;
West African Development Bank (BOAD) ;
Deutsche Gesellschaft für Internationale Zusammenarbeit (GIZ) ;
Banque Allemande de Développement (KfW) ;
European Union (EU) ;
United States Agency for International Development (USAID) ;
ECOWAS Investment and Development Bank (EBID).
West African Sub-Regional Organizations:
ECOWAS Regional Electricity Regulatory Authority (ERERA) ;
l'Organisation pour la Mise en Valeur du fleuve Sénégal (OMVS) ;
l'Organisation pour la Mise en Valeur du fleuve Gambie (OMVG) ;
West African Gas Pipeline Authority (WAGPA).
WAPP Executive Board :
Communauté Electrique du Bénin (CEB) ;
Société Béninoise d'Energie Electrique (SBEE) ;
Ghana Grid Company (GRIDCo) ;
Société des Energies de Côte d'Ivoire (CI-ENERGIES) ;
Compagnie Ivoirienne d'Electricité (CIE),
Société de Gestion de l'Energie de Manantali (SOGEM – OMVS) ;
Société Nationale d'Electricité du Burkina (SONABEL) ;
Transmission Company of Nigeria (TCN) ;
Volta River Authority (VRA).